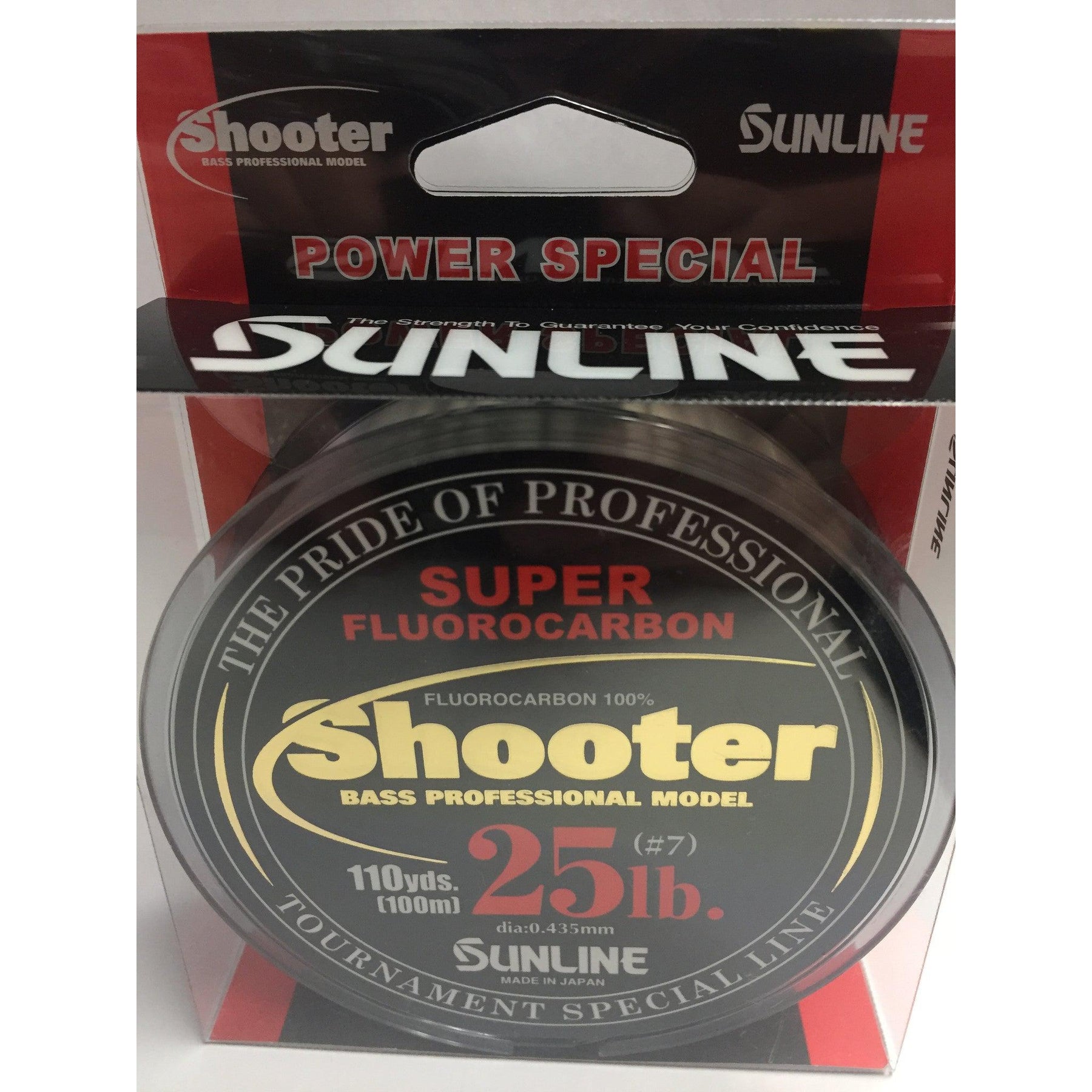 Sunline Shooter Fluorocarbon Line
Only 1 unit left
Size:
Sunline Shooter Clear Fluorocarbon 9 lb 100m
Pickup available at Retail Location
Usually ready in 4 hours
Sunline Shooter Fluorocarbon Line
Sunline Shooter Clear Fluorocarbon 9 lb 100m
Retail Location
Pickup available, usually ready in 4 hours
22941 Soledad Canyon Road
Santa Clarita CA 91350
United States
Sunline Shooter Fluorocarbon Line is the proven choice of both the tournament angler and the weekend fisherman.  This Japanese made line has formulas to insure you get hooked up and get the fish to the boat.  With many applications and sizes to fit your style of fishing, Sunline Shooter is sure to be your favorite.  Unlike subpar lines, Sunline installs it on the spool with Levelwind Technology.  This means there will be no imperfections in the line from the line above it crossing over the line below.  Each layer of line is installed on the spool next the previous like stacked cordwood.
Sunline made three precisely formulated versions of the Shooter Fluorocarbon, each one tailored to techniques associated with its range of sizes - Finesse Special, Marionette Special and the Power Special. All three fishing lines retain the characteristics that have made Sunline Shooter Fluorocarbon so popular: little-to-no memory, low underwater visibility, and an amazing castability. In addition to these key features, each version has been enhanced with attributes that improve performance in their specific tests and line diameters. From the lightest finesse techniques to the toughest power applications, Sunline Shooter Fluorocarbon has you covered. 
Finesse Special (7-9lbs): With an extra 3% of stretch and a special abrasion-resistant coating, the Finesse Special gives anglers peace of mind when handling a bigger fish. Built with incredible knot strength, the Finesse Special delivers an enhanced sensitivity and the ability to detect the faintest of bites. A small line with a big bite, the Sunline Shooter Fluorocarbon Finesse Special is perfect for finesse applications like dropshotting.
| | | | |
| --- | --- | --- | --- |
| Line Diameter | 7lb | 8lb | 9lb |
| Inches | .0086 | .0092 | .0097 |
| Millimeters | .219 | .235 | .248 |
Marionette Special (10-20lbs): Same formula as the original Sunline Shooter Fluorocarbon, the Marionette Special offers anglers a well-rounded line for a variety of applications. Perfect for fishing a jig or smaller swimbaits, the Marionette Special offers incredible knot strength, as well as, an amazing straight strength. The ultimate combination of sensitivity and abrasion resistance, the Marionette Special will get the job done in a variety of conditions. 

| | | | | | | |
| --- | --- | --- | --- | --- | --- | --- |
| Line Diameter | 10lb | 12lb | 14lb | 16lb | 18lb | 20lb |
| Inches | .0102 | .0112 | .0122 | .0129 | .0138 | .0146 |
| Millimeters | .260 | .285 | .310 | .330 | .350 | .370 |
Power Special (22-30lbs): A small increase in stretch gives the Power Special more shock absorbency when flipping or throwing big swimbaits. Built with beefed up abrasion resistance and an unmatched durability, the Power Special is perfect for horsing big ones out of timber and heavy cover.
| | | | |
| --- | --- | --- | --- |
| Line Diameter | 22lb | 25lb | 30lb |
| Inches | .0159 | .0171 | .0185 |
| Millimeters | .405 | .435 | .470 |