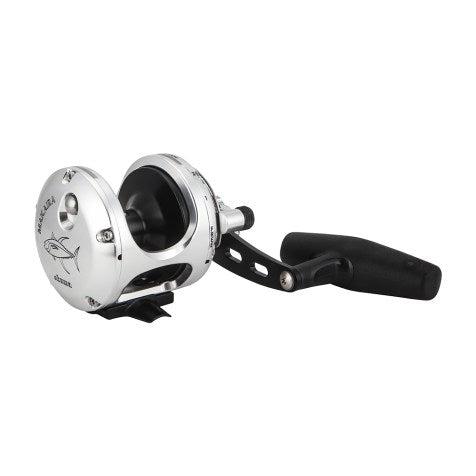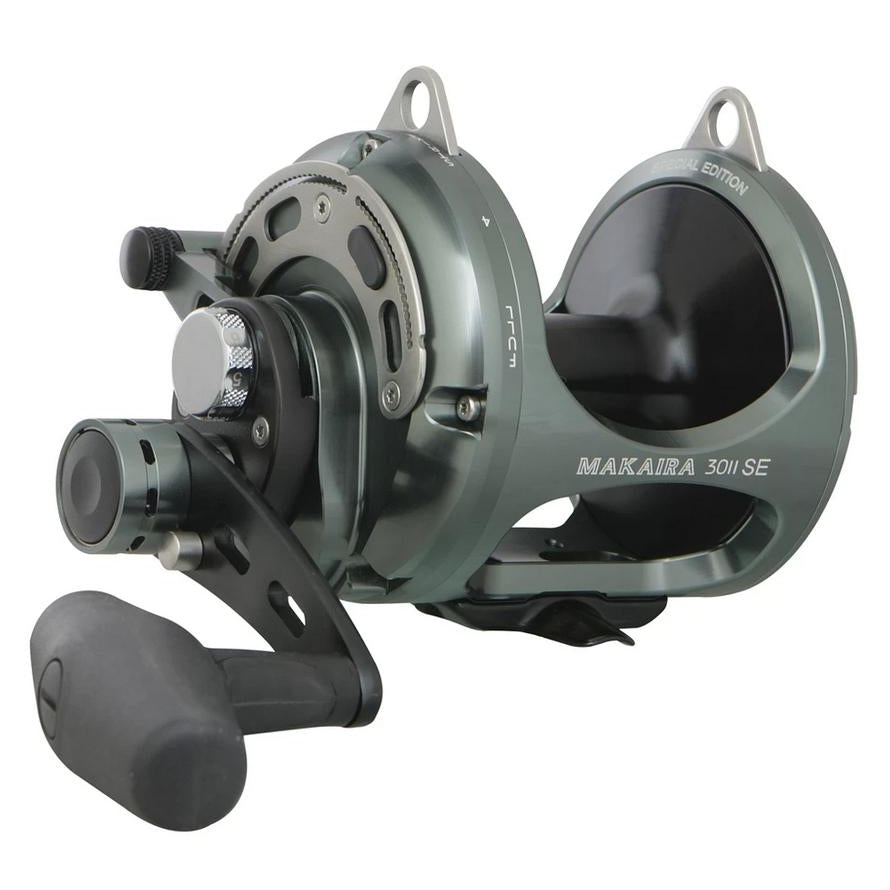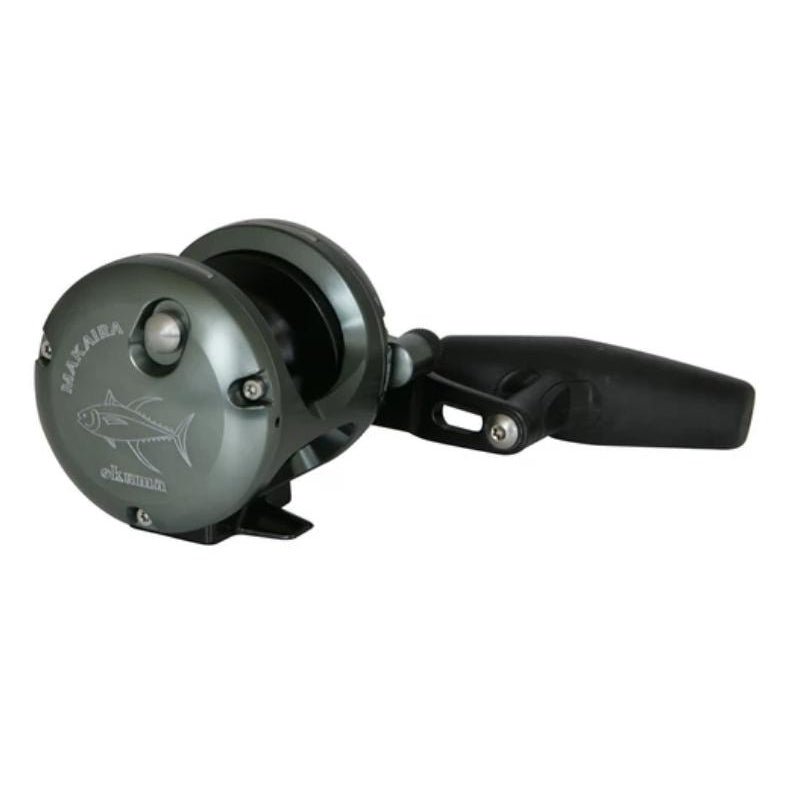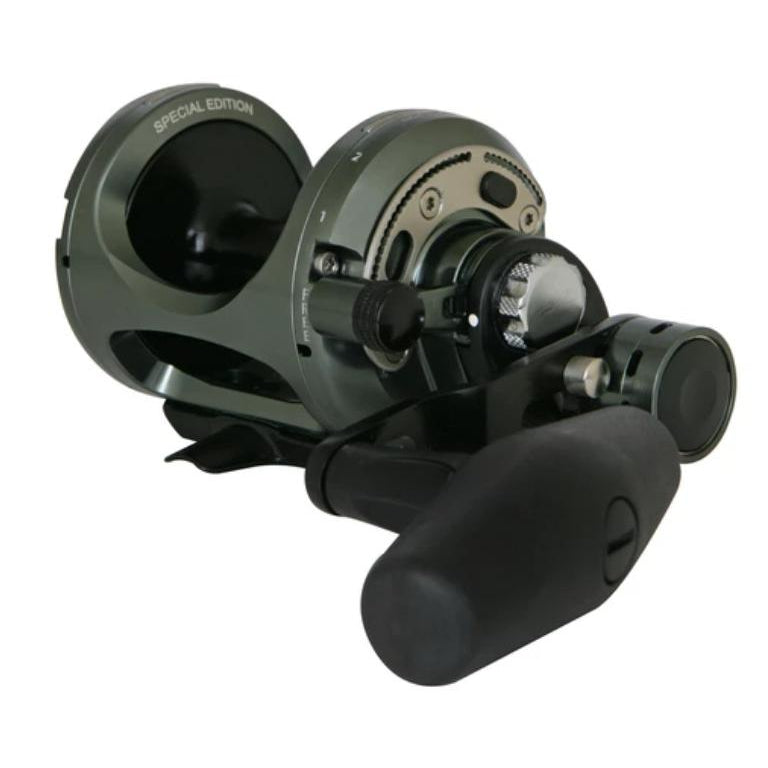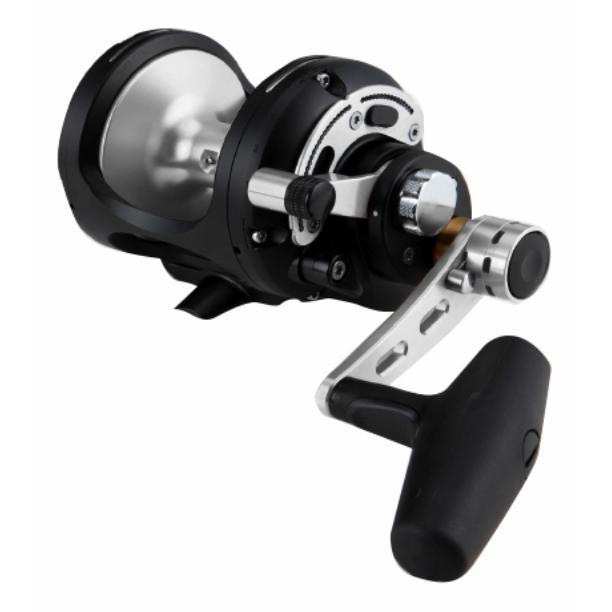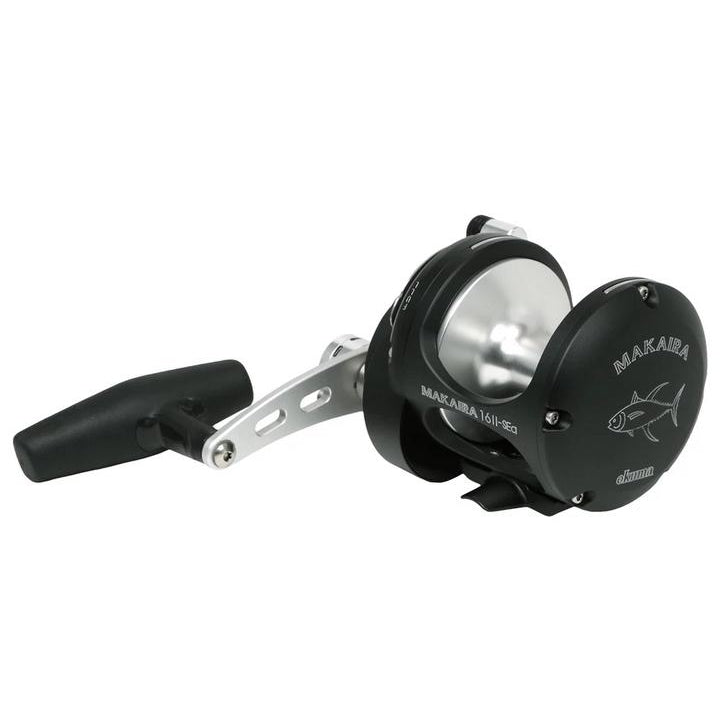 Okuma Makaira SEa 2 Speed Lever Drag Reel
Only 1 unit left
Pickup available at Retail Location
Usually ready in 4 hours
Okuma Makaira SEa 2 Speed Lever Drag Reel
MK-30IISEa - Silver
Retail Location
Pickup available, usually ready in 4 hours
22941 Soledad Canyon Road
Santa Clarita CA 91350
United States
The Okuma Makaira SEa 2 Speed Lever Drag Reels feature Special Edition Gun Metal and Black anodizing. The Carbonite dual force drag system maximizes high-end drag pressure, efficiency and overall smoothness. It's over sized handle and lower low speed gearing versus the original Makaira serve up extreme torque for the Makaira SEa.

- Open spool bearings with TSI-301 oil. Increases freespool 2-1/2 times.
- All non-spool bearings feature full grease pack for maximum longevity.
- Features Special Edition Gun Smoke and Black anodizing. 
- SE reels feature a yellowfin tuna etched into the sideplate.
- Frames have been machined out for increased clearance between spool and cross bars.
- MK-8/10/15 feature MK-20 size handle knobs.
- MK-20/30 feature the MK-50 handle arm and knobs
- Lower speed 1.3:1 gear ratio featured in 20/30 sizes.
- Lower speed 1.0:1 gear ratio featured in 50 size.
| | | | | | | | | |
| --- | --- | --- | --- | --- | --- | --- | --- | --- |
| # MODEL | BEARINGS | FRAME STYLE | GEAR RATIO | LINE RETRIEVE | MAX DRAG AT FULL WITH FREESPOOL | MAX DRAG AT STRIKE WITH FREESPOOL | MONO-LINE CAPACITY | WEIGHT OZ |
| | | | | | | | | |
| --- | --- | --- | --- | --- | --- | --- | --- | --- |
| MK-15IISEA | 4BB+1TB | Topless | 4.7:1 & 2.1:1 | 33.5 | 34-lbs | 27-lbs | 550/20 (0.42), 410/25 (0.48), 310/30 (0.55) | 26.8 |
| MK-16IISEa | 4BB + 1TB | Topless | 4.3:1 & 1.3:1 | 39.2 | 48-lbs | 34-lbs | 870/20 (0.42), 650/25 (0.48), 500/30 (0.55) | 40 |
| MK-20IISEA | 4BB+1TB | Topless | 3.8:1 & 1.3:1 | 39.4 &13;.2 | 55-lbs | 37-lbs | 870/25 (0.48), 660/30 (0.55), 530/40 (0.60) | 45.8 |
| MK-30IISEA | 4BB+1TB | Topless | 3.8:1 & 1.3:1 | 39.4 &13;.2 | 55-lbs | 37-lbs | 850/30 (0.55), 700/40 (0.60), 550/50 (0.70) | 48 |
MACHINED RIGID FRAME
Okuma's Machined Rigid Frame construction incorporates a one-piece fully-machined aluminum frame. These rigid bar-stock aluminum frames are the ultimate in precision alignment and tolerances withstanding more pressure and torque than any other material used in our industry for frame materials. Okuma features these anodized frames on fly reels, baitcast reels, lever drag reels and star drag trolling reels.
T-BAR HANDLE
The patented design of the T-Bar handle offers a true ergonomically correct angle to ensure an angler gets maximum power with minimum fatigue. The T-bar takes full advantage of the natural dynamics of the human hand, wrist and forearm to help sustain power and endurance for the angler.
2-SPEED GEARING
Okuma's 2-speed technology incorporates two sets of stainless steel main and pinion gears, allowing anglers the option of a high-speed gear ratio or a powerful low-speed gear ratio for maximum power and torque. To shift gears it is as easy as pushing a button or popping a lever with Okuma's unique shifting design to obtain the appropriate gear ratio you desire.
LEVER DRAG DUAL FORCE DRAG
For extremely smooth and strong drag outputs, Okuma's Makaira lever drags are designed with a patented Dual Force Drag system. This drag system is specifically engineered to be mounted in the right side of the spool, designed around a Pull Bar Drag System which keeps all mechanical workings in precise alignment and places no pressure on the frame. This system works in conjunction with a custom designed thrust bearing, which alleviates side load at heavy drag settings.
HELICAL CUT GEARING
Makaira lever drag reels utilize helical cut main and pinion gears. This process allows for improved gear meshing which equates to improved gear smoothness. The angled teeth found in helical cut gears engage more gradually than straight cut or spur gear teeth. This allows helical gears to run smoother and quieter compared to spur gears. Spur gears cause impact stress and noise, because of the hard meshing and can not take as much torque as helical gears because their teeth are receiving impact blows as they mesh together.
SILENT ANTI-REVERSE
The Makaira's proprietary anti-reverse system allows for a smoother and quieter feeling. We equate this feeling to that of a Lexus, when compared to other reels in the market. Most reels in the market hide their rough gear quality by the noise and vibration caused by the engagement and clacking of the anti-reverse pawls. The Okuma silent system is unlike any other 2-speed reel in the industry for smoothness. This anti-reverse system is supported by a 12 point double dog anti-reverse pawl system. The Makaira system is very simple in principal but the performance is extremely advanced. As you turn the reel forward the anti-reverse pawls slide open allowing a friction free and quiet retrieve. As soon as the handle is stopped or pulled backwards the anti-reverse pawls are engaged into place by their drive shaft actuated sliding system. The strength of this anti-reverse system does not solely rely on a dog spring like found on most of our competitors reels. The sliding function does not rely heavily on a dog spring system and is mainly controlled by the forward and reverse movement applied to the drive shaft through the movement of the angler turning the handle.
CRC
Corrosion Resistant Coating combines Okuma's proprietary HDG-II gearing system, which offers exceptional anti-corrosive properties compared to standard gears, with a coating of Corrosion X HD to all internal and external parts. The CRC process actually penetrates and bonds to the metal, which helps significantly toward long term protection.
 Gun Metal color may vary.